Elevate Your Ncig Pro Experience with the Ncig Pro Extra Accessory Magnetic Lanyard!

Are you looking for a stylish and practical way to keep your Ncig Pro close at hand? Look no further than the Ncig Pro Extra Accessory Magnetic Lanyard, the perfect companion for your Ncig Pro closed pod system vape device. This sleek and innovative accessory is designed to enhance your vaping experience in more ways than one.

Magnetic Attachment: Say goodbye to awkward clips and clumsy attachments. The Ncig Pro Extra Accessory Magnetic Lanyard features a magnetic connection that effortlessly snaps onto your Ncig Pro device. It's a secure and reliable way to keep your vape within arm's reach at all times.

Stylish Design: Elevate your vaping style with our sleek and modern lanyard design. It adds a touch of sophistication to your Ncig Pro, making a statement wherever you go. Choose from a variety of colors and find the perfect match for your personal style.

Durable and Comfortable: Crafted from high-quality materials, the Ncig Pro Extra Accessory Magnetic Lanyard is built to last. It's not only stylish but also comfortable to wear around your neck, ensuring a pleasant and worry-free vaping experience.

Perfect Fit: This lanyard is custom-designed to perfectly fit your Ncig Pro, ensuring a snug and secure connection. Rest assured, your vape device will stay firmly attached while you enjoy your favorite flavors.

Ultimate Vaping Convenience: Whether you're out for a walk, at a social gathering, or just relaxing at home, the Ncig Pro Extra Accessory Magnetic Lanyard is the ultimate vaping accessory. It keeps your device accessible, secure, and stylish, so you can vape with confidence and convenience.

Don't wait – order your Ncig Pro Extra Accessory Magnetic Lanyard now and take your vaping experience to the next level!

Want to see the Ncig Pro? Click here

Want to see the Ncig Pod Pro Flavours? Click Here

Want to see the Ncig Pro bundles? Click here for Ncig Pro Starter Pack & click here for Ncig Pro Combo Duomix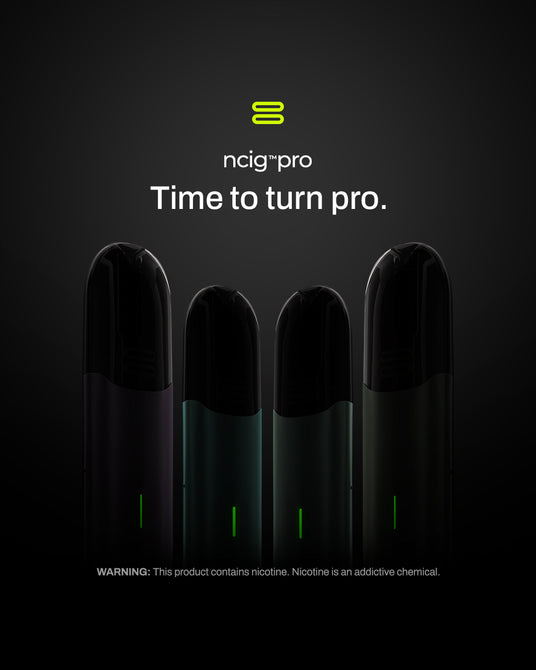 Why Should You Get the NCIG Pro & NPOD Pro
NCIG Pro
An ergonomic design and a beautiful colour line up - sage, kendall, sangria, and tiffany.
The safety lock mode feature activates automatically when you quickly pull out and insert the cartridge three times (Purple light for lock). Repeat the same process to disable safety lock mode (Blue light for unlock).
USB-C fast charging that will take only 30 minutes to fully charge
Improved stabilising firing
Enhanced battery performance with 500mAh capacity (30mins charge can last for 4-5 days).
NPOD Pro
Reduced dry mouth sensation
Improved nicotine delivery, flavour delivery, flavour consistency and throat hit.
Leak proof technology, which is also know as Moisture-loc
1

The NCIG Pro is packaged in a smooth and premium feeling box that feels amazing.

2

Once you have opened the packaging, you are greeted with a guide on how to enable and disable the new safety lock feature.

3

You can refer to the inner flap of the NCIG Pro's packaging that comes with a QR code for you to scan and complete the warranty registration.

4

You are then welcomed to a message from the people at NCIG that says "Enjoy!"

5

Inside the "Enjoy!" message, comes with a user guide on how to use the NCIG Pro.

6

After reading and understanding the user manual, the NCIG Pro device is unveiled.

7

The NCIG Pro comes with its own USB-C charger so you don't have to get a new one. Please note that the flavor pods are sold separately.