Introducing the Ncig Pod Pro: Elevate Your Vaping Experience!

Are you ready to take your vaping journey to the next level? Look no further than the Ncig Pod Pro, the ultimate flavor cartridge designed exclusively for the Ncig Pro closed pod system. Elevate your vaping experience with a range of cutting-edge features that redefine satisfaction and convenience. 

Reduced Dry Mouth Sensation: We understand the discomfort that can accompany vaping, which is why the Ncig Pod Pro is engineered to reduce dry mouth sensation significantly. Enjoy a smoother and more comfortable vaping experience, allowing you to savor your favorite flavors without the distraction of dryness.

Improved Nicotine Delivery: The experts at Ncig have worked tirelessly to perfect nicotine delivery, ensuring a more consistent and satisfying hit every time you take a puff. Say goodbye to frustrating cravings and hello to a seamless nicotine experience.

Enhanced Flavor Delivery and Consistency: Taste your e-liquids like never before with the Ncig Pod Pro. The advanced technology guarantees superior flavor delivery and consistency, providing an explosion of taste with every draw. Your favorite flavors will come to life, delivering an unparalleled vaping experience. 5% nicotine strength for a satisfying throat hit.

Enhanced Throat Hit: Experience a robust throat hit that satisfies like never before. The Ncig Pod Pro delivers a smoother yet punchy sensation that perfectly balances comfort and satisfaction. Get the throat hit you crave without any harshness.

Leak-Proof Technology - Moisture-Loc: Worried about messy leaks and wasted e-liquids? Don't be. The Ncig Pod Pro features state-of-the-art Moisture-Loc technology, ensuring a leak-proof vaping experience. Say goodbye to sticky pockets and hello to peace of mind.

Order your Ncig Pod Pro now and experience vaping at its finest. Satisfaction guaranteed!

Want to see the Ncig Pro? Click here

Want to see the Ncig Extra Accessories? Click here

Want to see bundle deals for Ncig? Click here for Ncig Pro Starter Pack & click here for Ncig Pro Combo Duomix

Flavour Recommendations for NCIG Pro

Fruit flavours like Watermelon, Mango, Grape, Guava are suitable for those looking for a light fruity taste with a low menthol feeling on the throat.

Flavours like Spearmint, Blanc Classic and Blanc Premium seek to satisfy the heavy smoker. Spearmint very closely mimics menthol cigarettes while Blanc Classic and Premium mimic a marlboro lights and dunhill reds respectively. These flavours are perfect for smokers that want a true representation of their cigarette taste.

Flavours like Coffee, Butter Toffee are good for those looking for a deep and rich flavours with notes of cream in them and they lean slightly towards the feeling of desserts.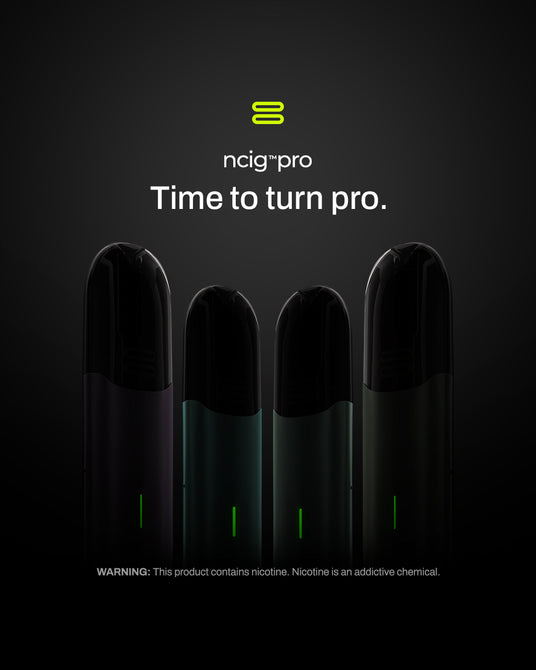 Why Should You Get the NCIG Pro & NPOD Pro
NCIG Pro
An ergonomic design and a beautiful colour line up - sage, kendall, sangria, and tiffany.
The safety lock mode feature activates automatically when you quickly pull out and insert the cartridge three times (Purple light for lock). Repeat the same process to disable safety lock mode (Blue light for unlock).
USB-C fast charging that will take only 30 minutes to fully charge
Improved stabilising firing
Enhanced battery performance with 500mAh capacity (30mins charge can last for 4-5 days).
NPOD Pro
Reduced dry mouth sensation
Improved nicotine delivery, flavour delivery, flavour consistency and throat hit.
Leak proof technology, which is also know as Moisture-loc
1

The NCIG Pro is packaged in a smooth and premium feeling box that feels amazing.

2

Once you have opened the packaging, you are greeted with a guide on how to enable and disable the new safety lock feature.

3

You can refer to the inner flap of the NCIG Pro's packaging that comes with a QR code for you to scan and complete the warranty registration.

4

You are then welcomed to a message from the people at NCIG that says "Enjoy!"

5

Inside the "Enjoy!" message, comes with a user guide on how to use the NCIG Pro.

6

After reading and understanding the user manual, the NCIG Pro device is unveiled.

7

The NCIG Pro comes with its own USB-C charger so you don't have to get a new one. Please note that the flavor pods are sold separately.