NanoSTIX NX Series Device Closed Pod Kit
---
---
Add any product to cart, then scroll down to the bottom of the cart page to view the shipping price and estimated transit time.
Get your NanoSTIX NX device. Let's stop smoking with NanoSTIX today!

Introducing NanoSTIX NX, a sleek vaping device designed for both style and substance. With fast USB Type-C charging and a long-lasting battery, it keeps you vaping, not waiting. Safety features like short circuit protection provide peace of mind. Ideal for those aiming to quit smoking, NanoSTIX NX offers a satisfying alternative. Elevate your vaping experience and embrace a future of flavor, style, and safety with NanoSTIX NX!

Brand: NanoSTIX NX
Charging Port: USB Type-C Fast Charging
Battery: 420mah
LED Charging Indicator
Premium Surface & Lightweight Slick Design
Each Set Contains: 1x NanoSTIX NX, charging cable, warranty card

The new nanopods that are compatible with the NanoStix NX also contain 33% more liquid with a 2ml liquid capacity for longer lasting enjoyment. 

Get the compatible Nanopods V2 Series here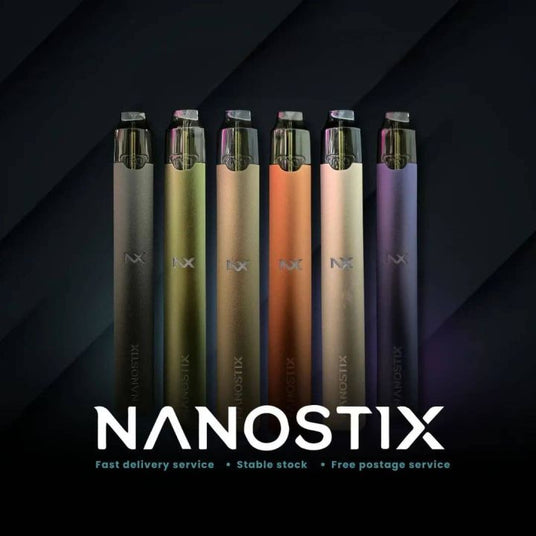 Why Should You Get the NanoStix NX Series & NanoPOD
NanoStix NX Device
Provides a healthier, more economical alternative to smoking
Free from harmful tar and chemicals found in cigarettes
Lightweight device with a stainless steel casing for durability
Designed without messy refill tanks
Easy to use: Insert NanoPOD juice cartridge and start vaping
Powered by LED power indicator for battery status
Micro USB charging with a voltage range of 0.35V – 2.25V
NanoPOD
Flavorful pods with 40 cigarettes worth of nicotine equivalent
Uses naturally occurring nicotine salts instead of freebase nicotine
Innovative NanoNIC technology for efficient nicotine delivery
NanosStix NX Unboxing Guide
1

The NanoStix NX series is packaged in a rectangular, smooth finish box

2

Once the box is opened, you are greeted with an envelop from Nanostix that contains the user guide & a QR code to register for warranty of up to 5 years!

3

After you have read the user guide and register for warranty, the device is then revealed. The device also comes with its own type C cable that has the NX logo engraved on it.

4

The NX logo on the device will light up once you have insert the cartridge. The type C cable does the same when you charge your NX device.