NanoStix
|

SKU:

PUNK-MANG-LYCH-BUTT-2884
NanoPod Trio Combo
---
---
Add any product to cart, then scroll down to the bottom of the cart page to view the shipping price and estimated transit time.
Introducing the Nanostix NX Flavor Extravaganza: A Trio of Delightful Vaping Pleasures!

Get ready for a flavor-packed adventure with the Nanostix NX Flavor Extravaganza Bundle. This exclusive collection includes not one, not two, but three Nanopod flavor cartridges, each designed to tantalize your taste buds and elevate your vaping experience to new heights.

Strength: 5%

Nanopod Flavors - A Flavorful Symphony: Immerse yourself in a symphony of flavors with the Nanostix NX Flavor Extravaganza. This bundle offers you a choice of three Nanopod flavor cartridges, each crafted to perfection. Designed exclusively for the Nanostix NX device, these cartridges deliver an unrivaled vaping experience, combining reduced dry mouth sensation, enhanced nicotine delivery, and impeccable flavor consistency.

Elevate your vaping journey with the Nanostix NX Flavor Extravaganza Bundle. Experience the convenience of Nanostix NX paired with a trio of flavors that are sure to please. Whether you're a seasoned vaper or just starting your journey, this bundle promises satisfaction with every draw. Order now and embark on a flavorful vaping adventure that will leave you craving for more!

Want to see the NanoStix NX device? Click here

Want to see other NanoPod flavours? Click here

Want to see other combo deals? Check out Nanostix NX combo here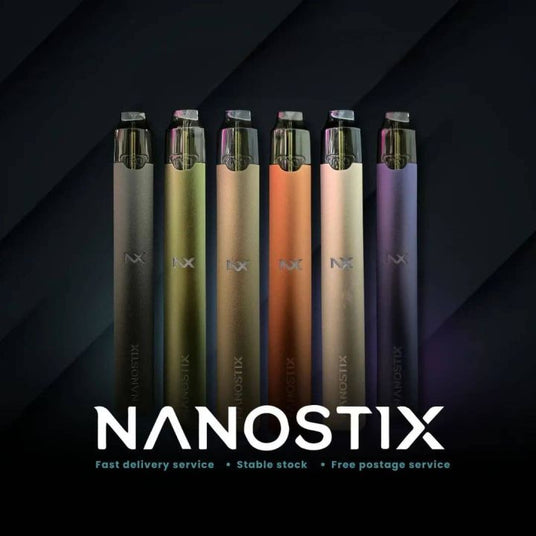 Why Should You Get the NanoStix NX Series & NanoPOD
NanoStix NX Device
Provides a healthier, more economical alternative to smoking
Free from harmful tar and chemicals found in cigarettes
Lightweight device with a stainless steel casing for durability
Designed without messy refill tanks
Easy to use: Insert NanoPOD juice cartridge and start vaping
Powered by LED power indicator for battery status
Micro USB charging with a voltage range of 0.35V – 2.25V
NanoPOD
Flavorful pods with 40 cigarettes worth of nicotine equivalent
Uses naturally occurring nicotine salts instead of freebase nicotine
Innovative NanoNIC technology for efficient nicotine delivery
NanosStix NX Unboxing Guide
1

The NanoStix NX series is packaged in a rectangular, smooth finish box

2

Once the box is opened, you are greeted with an envelop from Nanostix that contains the user guide & a QR code to register for warranty of up to 5 years!

3

After you have read the user guide and register for warranty, the device is then revealed. The device also comes with its own type C cable that has the NX logo engraved on it.

4

The NX logo on the device will light up once you have insert the cartridge. The type C cable does the same when you charge your NX device.