Introducing the Elf Bar Mate P1 Flavor Fiesta: Three Times the Flavor, Triple the Satisfaction!

Prepare to embark on a journey of flavor exploration with the Elf Bar Mate P1 Flavor Fiesta Bundle. This meticulously curated collection combines the Elf Bar Mate 500 device with not one, not two, but three tantalizing Elf Bar Mate P1 pre-filled pod flavors. Dive into a world of convenience and flavor variety like never before.

Elf Bar Mate P1 Pre-filled Pod Flavors - Triple the Flavor Extravaganza: With the Elf Bar Mate P1 Flavor Fiesta Bundle, you're not limited to just one or two flavors – you get three! Immerse yourself in a symphony of flavors with three Elf Bar Mate P1 pre-filled pod flavors, each carefully crafted to deliver a unique and unforgettable vaping experience. Designed exclusively for the Elf Bar Mate 500 device, these pods ensure reduced dry mouth sensation, enhanced nicotine delivery, and impeccable flavor consistency. Explore a diverse array of flavors, from rich tobacco blends to refreshing fruit fusions, and elevate your vaping adventure.

Strength: 3.5%

Experience the Elf Bar Mate P1 Flavor Fiesta Bundle and elevate your vaping journey to new heights. Rediscover the joy of vaping with a fusion of convenience and flavor variety in every draw. Order now and embark on a flavorful vaping adventure that will leave you craving for more!

Want to see the Elf Bar Mate device? Click here

Want to see other Elf Bar prefilled pod flavours? Click here

Want to see other bundle deals? Check the Elf Bar Mate Starter Kit here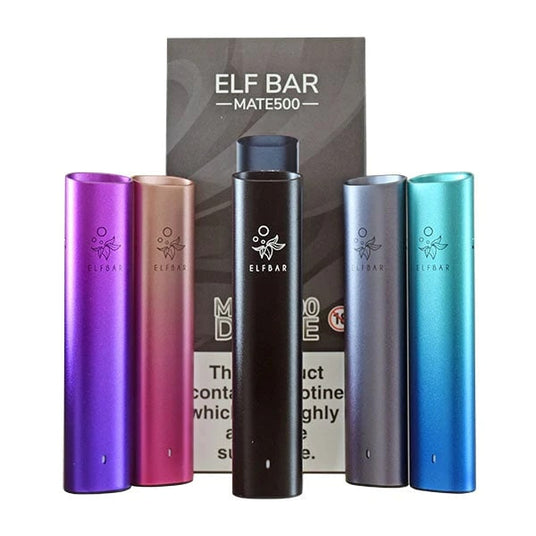 Why Should You Get the Elf Bar Mate 5000
Lightweight and durable with aircraft-grade aluminium material with a refined matte finish.
Longer enjoyment as the battery capacity is 500 mAh
Type-C charging
Compatible with ELFBAR P1 Prefilled Pod
LED indicator for inhaling and charging
Stylish gradient appearance stands out with a smooth hand feel
Elf Bar Mate 5000 Unboxing Guide
1

The Elf Bar Mate 500 is packaged in a simple box. Please note that the device does not come with a pre-filled pod (sold separately).

2

The Elf Bar Mate comes with a user manual, type C charging cable in the box. No flavor pod is included.

3

The Elf Bar Mate 500 comes with its own USB-C charger so you don't have to get a new one.

4

The Elf Bar P1 Prefilled Pod has a "freshness lock" system. Before using the pod, remove the silicon covers, press down on the red plastic bottom and wait for 3-5 seconds for the liquid to fully soak up into the cotton. Once done, it is ready for use.

5

Insert the prefilled pod into the device. You're all set!